Commercial LED Outdoor Lights
LEDs can cut your lighting energy use by as much as 80%.
Commercial LED Outdoor Lights
While good indoor lighting is essential for commercial premises, outdoor lights also play a vital role, for security but also as a strategic form of brand promotion. Commercial LED outdoor lights offer plenty of options for organisations and businesses wishing to enhance their outdoor lighting in ways that are extremely cost-effective and energy efficient.
Can You Use LED Lights Outdoors?
As a superior, energy-efficient form of lighting technology, LEDs are highly adaptable, and this includes multiple outdoor, as well as indoor, uses.With a lifespan that can be between two and ten times greater than other types of lighting, LEDs are perfect as outdoor lights, requiring minimum maintenance for a maximum return in efficiency.LED outdoor lights in commercial settings can also produce different lighting qualities, according to individual business needs.They are also a robust form of outdoor lighting, being shock resistant and able to withstand hot and cold climates. Even in the coldest winter, you will be able to rely on your outdoor LED lights.
Which Colour Light is Best for Outdoors?
The first thing to note is that brighter is not always better when it comes to lighting for outdoor areas.Lighting that is too harshly bright can actually create unsafe areas and dark pockets. Depending on the function of your lighting, you may instead want to opt for warmer light that has lower lumen level.This will provide even lighting across your chosen area.However, for security purposes, in key spots, such as doorways and windows, a clear, bright light can be better. Remember, for security purposes, lighting is acting as a deterrent.Colour temperature is the deciding factor when choosing the colour of your outdoor lighting. This is a major aspect of lighting quality.For example, if you illuminate a car park with traditional sodium lighting, there is a yellow tinge that artificially colours surrounding features such as grass.With LEDs, on the other hand, you can have a much brighter tinge, which enables surrounding features to look much as they would in daylight. This provides greater clarity of vision, and is more reassuring overall.In addition, the even distribution of lighting you get with LEDs means you can virtually eliminate shadow, providing you position your lighting carefully and strategically.Colour temperatures for LED lights run from warm white, at one end of the spectrum, to cool white at the other.Always align the colour temperature of your LED bulbs to the end-purpose of your commercial LED outdoor lighting.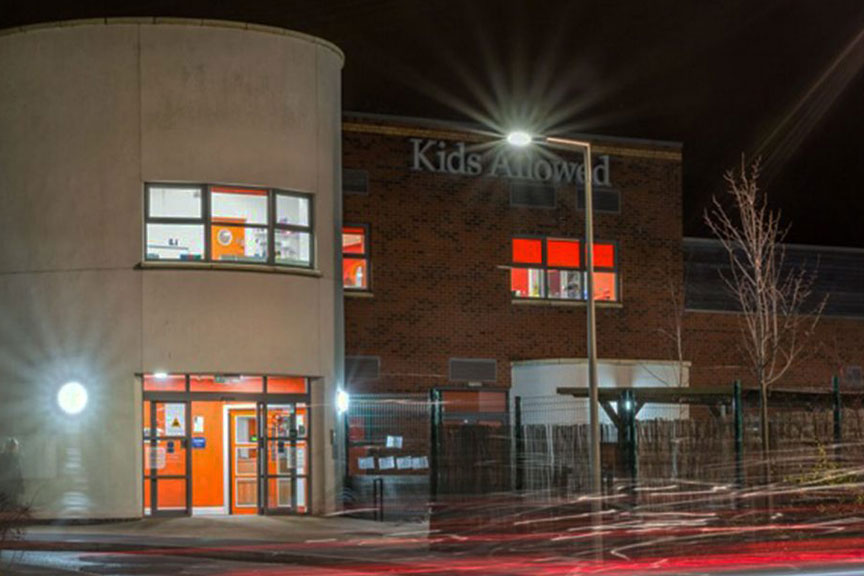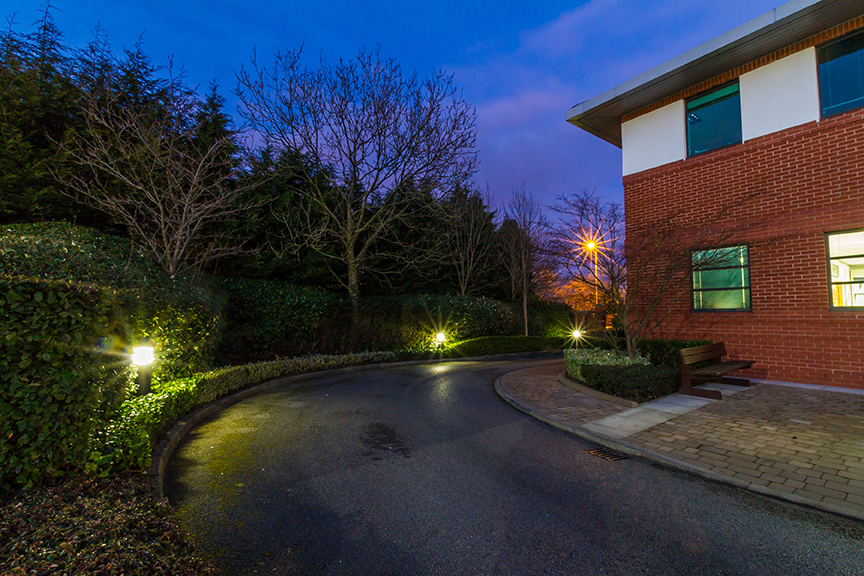 Best Outdoor LED Lights
Outdoor LED lights have all the benefits of indoor LEDs, and they come in a variety of styles, including:
Brick lights – for attachment to light poles or sides of buildings to provide light below
Floodlights – delivering a bright, wide area of light from above, perfect for security purposes
Wall packs – bright, compact lights you attach directly to the side of a building, and which you can then angle downward or face outward, to maximise illumination.
Advantages of LED Outdoor Lights Over Regular Lights
The main advantages that LED outdoor lights enjoy over regular lights are:
Increased energy efficiency
Prolonged lifespan
Environmentally friendly
Adaptability and choice
High level of control.
LEDs can cut your lighting energy use by as much as 80%. When you consider that much outdoor lighting will have at least a dawn to dusk function, this should add up to significant energy savings.The prolonged lifespan of LEDs also means they require much less routine maintenance. Light emitting diodes have a lifespan of around 20,000 hours. This can amount to 10 to 20 years of continued use. As virtually a fit-and-forget form of lighting, LEDs reduce the burden on your facilities management.LEDs are environmentally friendly when compared to traditional forms of lighting. They are 100% recyclable and non-toxic – some fluorescent lights, for example, contain mercury.Outdoor LEDs come in a wide range of adaptable styles, with different colour temperatures to suit specific workplace functions. They are also highly controllable, with programmable timings and dimming functions.
Examples Where Good Outdoor Lighting Applies
The primary functions for much commercial outdoor lighting are in supporting and providing security and safety.Security lighting is a highly effective way of protecting business premises. Just the presence of lighting can be enough to put off intruders.This type of lighting can require detailed installation, but with commercial outdoor LED lights, you can make significant savings on energy costs and maintenance. Security LED lights use 90% less energy than halogen lights, for instance.Motion-detection lighting is also highly effective as security lighting, automatically switching off once they no longer detect movement.Outdoor lighting is essential for safety in workplaces. Areas such as loading bays require good lighting to ensure safe working practices.Again, with LEDs, you can save on energy costs, and have the benefits of programmable lighting, so you only need to illuminate certain areas when they are in use.HSE emphasises the importance of good outdoor lighting where vehicles are used at work, and that it should apply to all roads, areas where people manoeuvre vehicles, yards and pedestrian areas.Good commercial outdoor lighting is also a benefit for customers. It illuminates entrances to make them welcoming and safe, and can draw attention to important signage, especially when viewed from a main road.
LED Outdoor Lighting for Your Business
Contact us today to discover more about the benefits of commercial LED outdoor lights.
Get in contact with us
and make an appointment