Commercial LED Floodlights
LED lighting can last up to 20 years without needing to be replaced.
Commercial LED Floodlights
Commercial LED lighting has become the go-to lighting infrastructure for businesses looking to save money on their energy bills while helping the planet. Offering fantastic cost savings and the opportunity for a more sustainable business environment, LED lights have found a welcome place in a wide range of industries.
One area where LED lighting has quickly been popularised is in the commercial floodlight sector. Commercial floodlights traditionally use large amounts of energy to light up car parks, football stadiums and warehouses. LED floodlights now offer a cheaper, greener and more efficient source of large-scale lighting that can be put to excellent use in a range of scenarios.
In this article, we take a detailed look at commercial LED floodlights and how they can help your business.
What Are Commercial Floodlights and What Are They Used For?
Commercial floodlights are large-scale lighting systems designed to light up large areas brightly and for prolonged periods of times. Commercial floodlights are specifically designed to be used in an industrial or commercial capacity, and are therefore required to be robust and hard-wearing.
Far-reaching and long-lasting, commercial floodlights are ordinarily composed of a broad beam that emits a high-intensity light. Multiple floodlights are often mounted simultaneously on a support to provide an even broader area of coverage and a more intense light.
Here are a few of the most common uses for commercial floodlights in business:
Security lights
Providing light for parking lots
Warehouse lighting
Railway, bus station or airport lighting
Sports stadiums
Music arenas
There are many more uses for commercial floodlights, and you'll find them across a wide range of industries and in myriad locations across the country.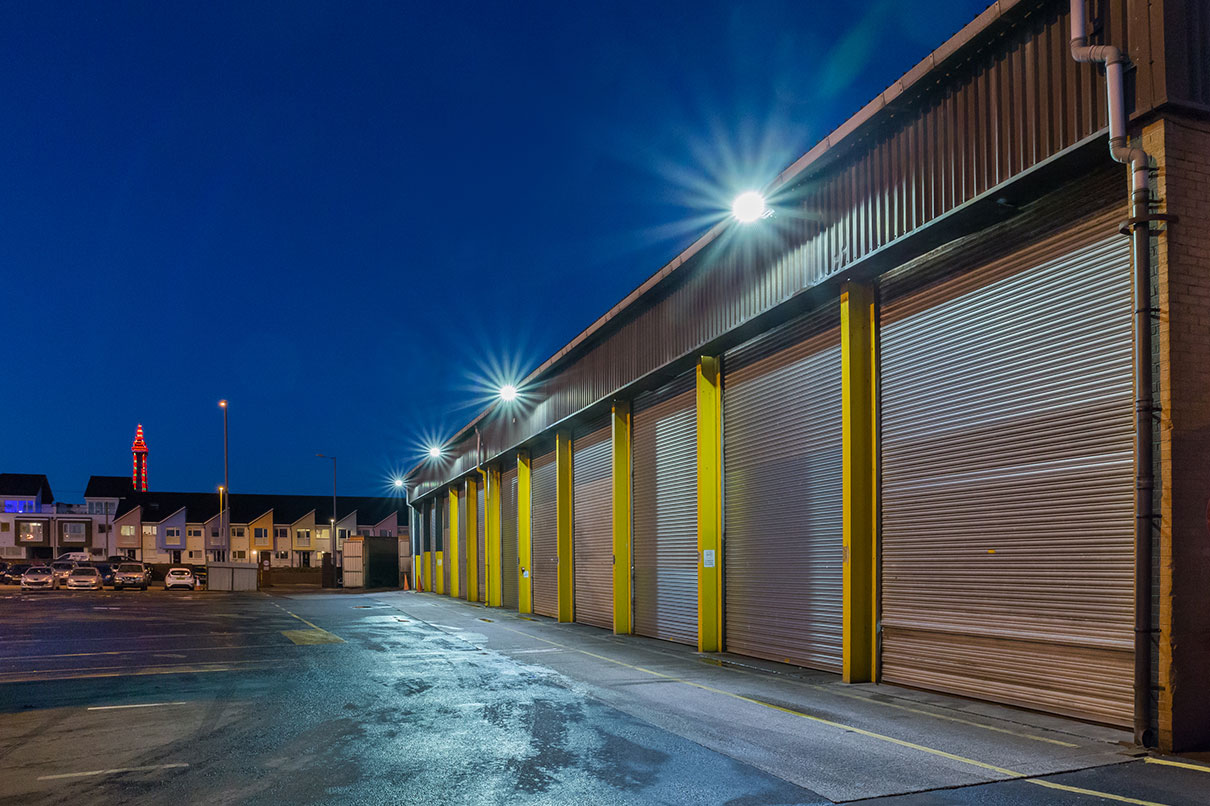 On a broader basis, commercial floodlights light large areas, such as a football pitch, brightly. They provide visibility and security at night in parking lots, and they create a work-safe environment that minimises accidents by increasing visibility in warehouses.
Commercial floodlights are highly adaptable, which is why they have become a staple source of light for industries.
The Importance of High-Quality Commercial Floodlights
Because of the important role played by commercial floodlights, it's vital that businesses select the highest-quality commercial floodlights for installation, no matter what purpose they are employing them for. The fact that commercial floodlights often provide security and contribute to a safe and visible working environment makes a high-quality product all the more critical.
As they are required to be used in an industrial capacity and are often mounted outdoors, commercial floodlights need to be weatherproof, extremely hard-wearing and resilient. They need to provide a constant source of light, and in some cases (indoors warehouses for instance) they might be required to be lit 24/7.
If a commercial floodlight fails in an industrial setting, it can have severe consequences. Work might have to stop, transport could be grounded, sporting events cancelled and, in the worst case scenario, people could get hurt.
Because of this, industry and businesses are turning to commercial LED floodlights over traditional floodlights, as they have the potential to fulfil all these requirements – and exceed them!
What Are the Benefits of LED Floodlights over Traditional Floodlights?
We've long been convinced of the advantages that commercial LED floodlights have over traditional floodlights. We want to convince you too, because you'll not only save money by making the switch, but you'll be helping to build a more sustainable business, for a brighter future.
Importantly, LED lighting can fulfil the same roles and be used in the same locations that traditional commercial floodlights are employed. As you'll see, LED lights offer a number of additional benefits.
Traditional commercial floodlights make use of either halogen or incandescent bulbs to produce light. However, these types of lighting are incredibly out-dated and, worst of all, they are horrendously inefficient.
Traditional bulbs, particularly incandescent bulbs, produce light by heating a filament. This filament produces light, but much of the energy is wasted as heat (bulbs get really hot, don't they?). When you need lots of lighting and you need it to be switched on continuously, then this just isn't efficient and can quickly prove to be costly.
LED lighting uses a semiconductor to create a circuit. Electricity is passed through, producing light. It's a much more efficient system and there's much less energy wastage. In fact, LED lighting can be anywhere from 70 to 90 per cent more efficient than traditional bulbs.
Those energy savings are not only good for the planet, but they are excellent for your bottom line. The energy savings are directly converted to cost savings, and your energy bill will be dramatically reduced.
If your business requires large numbers of floodlights to be continuously switched on, you could make substantial savings. The savings are so pronounced that you'll quickly make back any upfront costs that were needed to make the switch (we guarantee it!).
Commercial LED floodlights are also extremely robust. They can be weatherproof so can be used outdoors or indoors, and they need little maintenance and few repairs in comparison to traditional bulbs. Indeed, LED lighting can last up to 20 years without needing to be replaced. That not only saves you money on maintenance and upkeep, but valuable time and effort too. Once LED lights are installed, just switch them on and leave them be!
On top of energy savings, commercial LED floodlights produce a brighter light than traditional bulbs. They can keep large areas lit for longer, at a lower cost. They provide a safer working environment and a better level of brightness. This is particularly important in industrial work areas, such as a warehouse, where accidents can happen if the lights are dim. In parking lots, LEDs provide more security and peace of mind to customers, while in airports they are essential for safety.
Importantly, LED lighting also helps the environment. In today's world, that's more important than any of the other benefits, in our opinion!
LED lights help to lower the carbon footprint of your business, as you lower your energy usage. If your business wishes to create a more sustainable work environment or a greener image, then installing LED lighting is essential. This is particularly important for commercial floodlights that traditionally use up huge quantities of energy for a very inefficient output of light.
Here's a quick rundown of the most important benefits that commercial LED floodlights hold over traditional lighting infrastructure:
Energy savings
Cost savings
Brighter light
Longer lasting bulbs
Less maintenance
More security
Safer work environments
Lower your carbon footprint
Why Seek Professional LED Advice?
If want to make the switch to LED lighting, then seeking out professional advice from a reputable supplier is the first step towards change.
A professional LED company such as Eco Lighting Specialists can help you to understand the full extent of the savings you'll make by conducting a survey and analysis of your existing energy usage and lighting infrastructure.
LED floodlights are available in a dizzying array of potential sizes, shapes and layouts, but a professional team will make a coordinated plan that offers the best potential set up for your business. A specialist team will create an ideal lighting plan and layout that maximises efficiency while shining the brightest light exactly where you need it to be.
When it comes to installation, a professional team will make the switch as seamless and stress-free as possible. This is especially important for busy businesses that have events to run or orders to fill. Professionals can work around your schedule to get the job done quickly and efficiently.
LED Lighting Costs
A professional LED lighting specialist can offer advice on costs and financing, too. LED lighting might at first seem like a big upfront cost, but it's important to remember that those costs are quickly equalled then surpassed by the energy savings.
If you're concerned about investing so much in a one-off capital outlay or if you simply don't have the capital available, then we offer a 'no capital outlay' financing option. We make the installation and you pay us back in instalments.
The energy savings will soon be less than the monthly instalments a business needs to make. In effect, this means that making the upgrade may essentially cost nothing in the long run.
In addition to a 'no capital outlay' payment plan, there are multiple grants and schemes available from the government, which aim to help businesses looking to make the switch to more sustainable energy options. Again, our professionals can offer the best advice on financing options.
Contact Eco Lighting Specialists Today
With so many cost savings to be made, now is the time to make the switch to a more sustainable, energy-saving future for your business.
Save money, save energy and help save the planet too, with commercial LED floodlights.
Contact Eco Lighting Specialists today to find out more about installing commercial LED floodlights and to discover how we can help you make the switch to greener energy.
Get in contact with us
and make an appointment