Commercial LED Ceiling Lights
Installing LED lighting boosts your green credentials.
Commercial LED lighting is highly adaptable and versatile, offering a range of lighting solutions, including LED ceiling lights.
Commercial lighting is essential for commercial spaces, such as offices, warehouses, shops and institutions. It is important that the characteristics, application and function match the needs of the specific location.
Ceiling lights are especially effective in providing a good field of illumination, and keeping workspaces practical and safe for their occupants.
LED ceiling lights have specific benefits connected to the technology that powers them, making them an efficient, economic choice for a broad range of enterprises.
Which are the Best LED Ceiling Lights?
Commercial LED ceiling lights are often mounted within the ceiling space, so only the panel facia is visible.
This ensures they are unobtrusive, while being effective at illuminating spaces.
Because contemporary LEDs are so highly adaptable, LED ceiling lights come in a broad range of designs, including:
Strip lighting
Battens
Panels
Integral lighting strips.
Some will offer a greater degree of illumination than others. What is important is that you select the type of commercial LED ceiling lights that will best suit your purpose.
This may, in fact, be a combination different designs of light.
What you should be looking to do is create a logical lighting system for your workspace, which serves the needs and functions of your staff.
In the UK, lighting accounts for around 20% of energy consumption. The Carbon Trust says that for businesses, lighting can rise to around 40% of energy bills.
With LEDs using, on average, 80% less power than ordinary bulbs, they should be a logical choice for businesses looking to make serious energy savings.
Therefore, when it comes to which commercial LED ceiling lights are the best, simply opting for LEDs in the first place is likely to be a sound business decision.
There are several excellent reasons for upgrading to LED lighting:
Making significant energy savings
Improving the work environment
Installing a low maintenance lighting system
Controlling this system precisely and efficiently.
There is also the environmental factor to consider. Installing LED lighting boosts your green credentials.
Displaying this type of corporate social responsibility is increasingly important in securing your brand reputation, and in recruiting and retaining a talented workforce.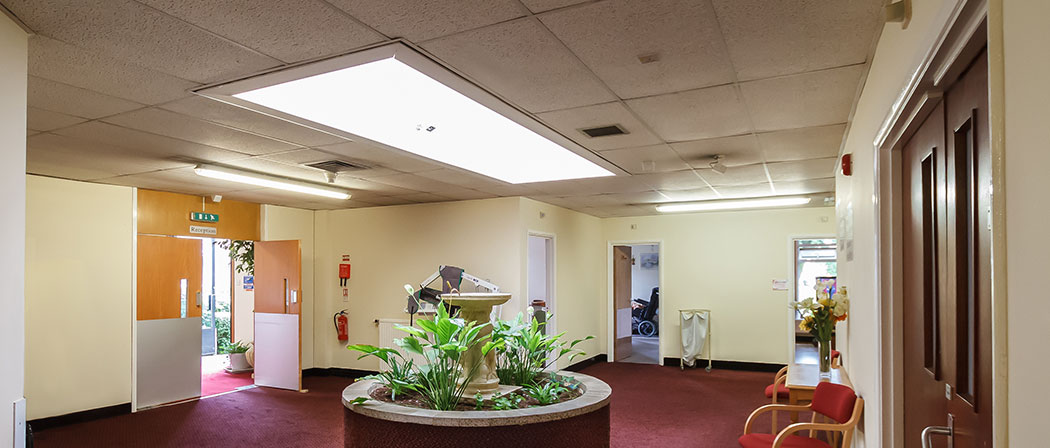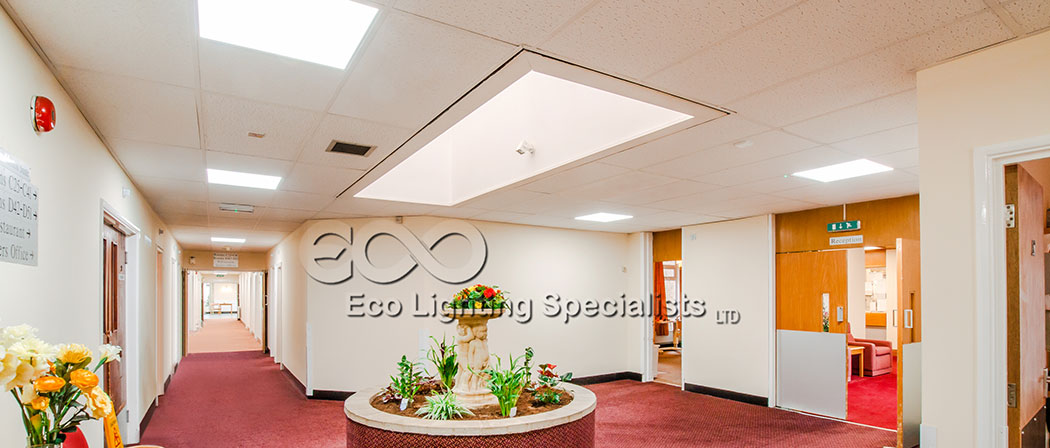 Which Commercial Buildings Benefit from LED Ceiling Lighting?
The short answer is that ALL commercial buildings can potentially benefit from LED ceiling lighting.
This is because commercial LED ceiling lights are not a one-size-fits-all solution, but are highly adaptable in design for different types of commercial space, including:
Offices
Warehouses
Factories
Workshops
Hotels
Shops and retail centres
Restaurants
Hospitals and healthcare centres
Schools.
Different types of LED ceiling lights will work better with different types of workspace, which is why it makes sense to seek specialist advice about installing an LED lighting system.
What is the Best Lighting for High Ceilings?
A feature that distinguishes many commercial spaces from domestic settings is a high ceiling.
Obviously, with high ceilings, finding a suitable lighting solution that will provide good illumination is a major issue.
Traditionally, fluorescent light fixtures were seen as the ideal lighting solution for high ceilings. However, for the reasons we have already outlined, it makes good business sense to change this form of lighting to LED.
The good news is that there are several ways of switching fluorescent light fixtures to LED.
Either you can convert existing fluorescent fixtures to LED, or replace them with LED fixtures.
Using retrofit LED tubes can be less expensive than replacing the entire fixture. Retrofit LEDs are available as high efficiency models too, so you can guarantee energy savings.
Alternatively, you could replace existing fluorescent fixtures outright with either:
LED tube fixtures, or
LED panel lights.
Panel lights provide evenly dispersed lighting, and you can either have them recessed within the ceiling space, or surface-mounted directly to a flat ceiling.
LED tube lights are noticeably brighter than fluorescent tubes, but without any flickering or dark spots. Also, unlike fluorescent tubes, they contain no toxic materials (fluorescent tubes contain mercury).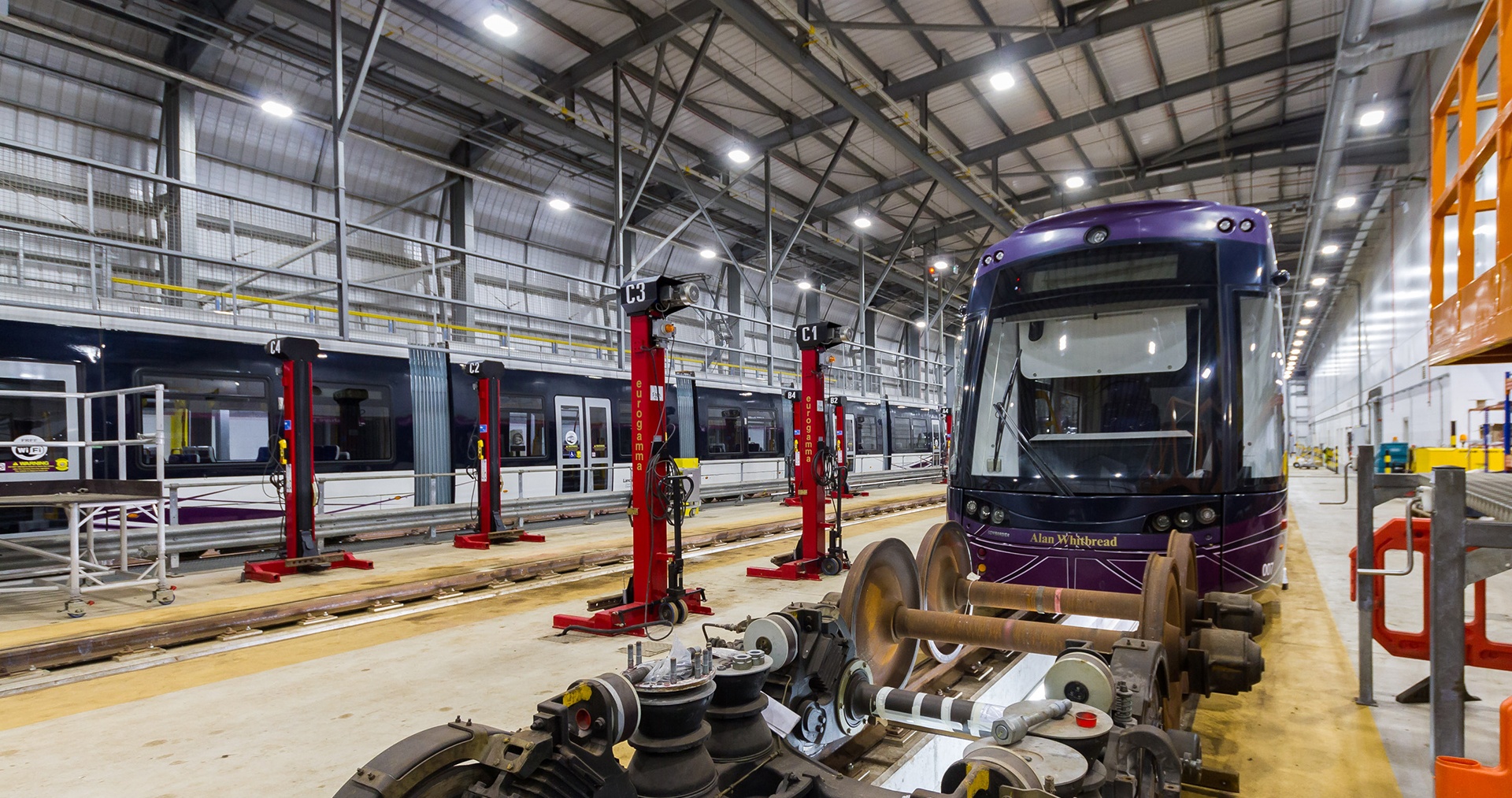 Does LED Lighting Reduce Eye Strain?
There are plenty of sources of eye strain in the modern commercial workspace. A major culprit is the blue light of the computer screen.
Computer eyestrain is a persistent complaint, and it can cause eye fatigue and, consequently, impact on productivity and wellbeing.
As well as taking action to limit blue light, to reduce the instance of eye strain, another key action is to reduce the amount of fluorescent lighting.
LED bulbs are brighter and can produce a better light quality than fluorescent lights. Dim or flickering lights can cause eye strain, but LED lighting will not flicker.
Warm light is better for eyes, and if your workspace has a limited amount of natural daylight, then an artificial warm light source is an ideal alternative. LED bulbs provide this warm light.
What are the Benefits of Commercial LED Ceiling Lights?
The major benefits of LEDs as ceiling lights in workspaces and commercial premises are:
Financial – you can make significant energy savings with LED lighting, because they use less energy and last longer
Environmental – you use less energy, the bulbs last longer, and LEDs are environmentally friendlier when it comes to disposing of them
Health-based – your employees experience a better, more even and brighter quality of light to work by
Maintenance – LEDs are, effectively, a fit and forget technology, so your facilities management saves on time and resources
Control – LED lighting is programmable, and you can use dimmers and timers to have complete control of lighting levels, to maximise effectiveness and efficiency.
Contact us today to discover more about the benefits of commercial LED ceiling lights.
Get in contact with us
and make an appointment